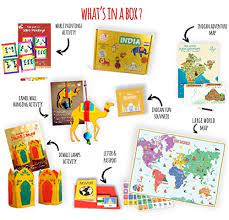 Since 2020, people are almost house arrest. The pandemic has hit each and every single person all over the world. People have lost their jobs,cut in salary and so on. From kid to old person, everyone has been disturbed. But along with sorrows there is also happiness found in the pandemic where people are able to spend more time with their family.
Yes, Activity boxes are useful for kids especially during this pandemic. The kids who are basically used to playing outdoors are now bound to stay indoors due to the severe outbreak of the COVID virus. During this situation the Activity boxes play a vital role in a kid's life. The Activity boxes keep the kids engaged.These are hands-on and play-based activities that will help in basic skill development and teach the child different concepts through fun learning. The Activity box not only contains the materials but it also brings fun and happiness to the kids.The kids of Kindergarten and Nursery are benefited from the Activity boxes. They provide Educational stuff for the Kindergarten and Nursery kids. The Activity boxes are also useful for:
Develop concentration skills and thinking skills in children.
Support cognitive skill development and motor skills development.
Facilitate socio-emotional development in toddlers.
Increase vocabulary and communication skills.